---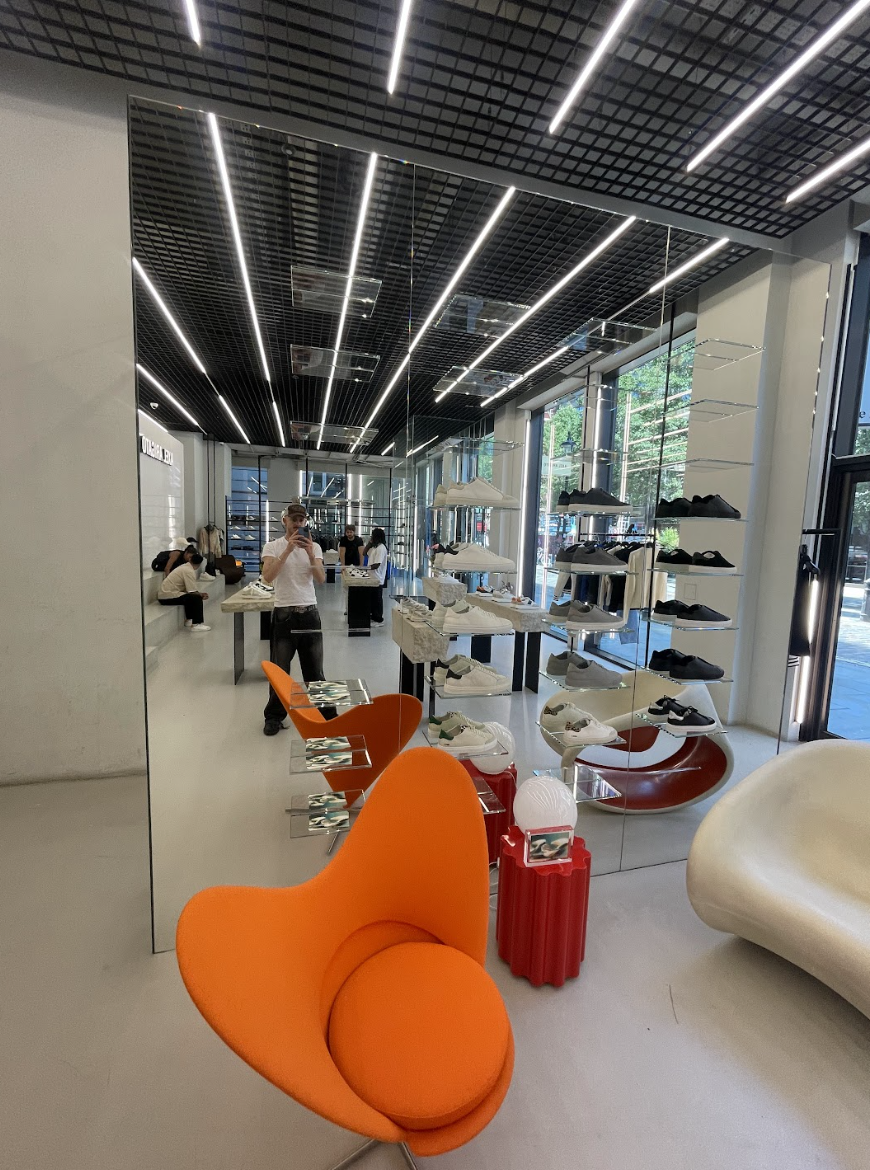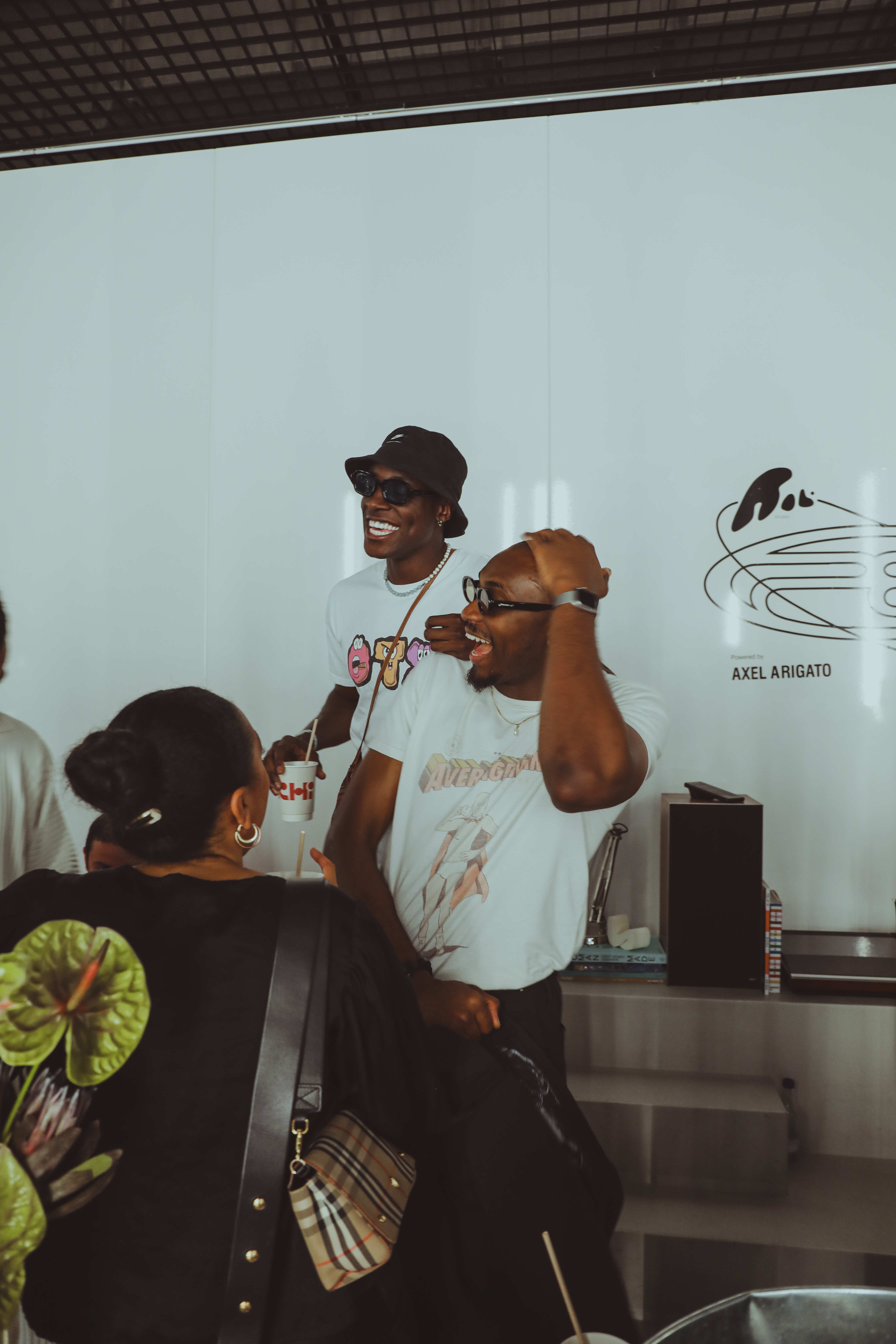 RADICAL*DESIGN*LONDON

Pink Essay x Axel Arigato x ROLSTUDIO x Time & Space
August 2023
RADICAL DESIGN LIVES IN LONDON
— We partnered with London designer
ROLSTUDIO
and London concept store
Time & Space
to host a weekend of events celebrating the city and its own take on design. The weekend was powered by our friends at
Axel Arigato
and included an installation at their Soho store, an interdisciplinary panel talk with designers, curators, and architects, and a movie night screening of the 2018 Dieter Rams documentary.
The event was our first outside of North America — an amazing opportunity to connect with both our international audience and meet designers and designheads alike creating radical design culture in the London scene.
The weekend of events included:

RADICAL*DESIGN*SOUND — An installation by ROLSTUDIO + Time & Space at Axel Arigato London, paired with sounds by Errol, scents from COMING2YOURSENSE, and cocktails from Mirchi

RADICAL*DESIGN*TALK — A panel conversation at Time & Space's London store with London designers, architects, and designers

RADICAL*DESIGN*FILM — A film screening of the 2018 Dieter Rams documentary RAMS at Time & Space

Big thank you to ROLSTUDIO for creative directing the series of events alongside our team and to Axel Arigato and Time & Space for fueling the weekend!
---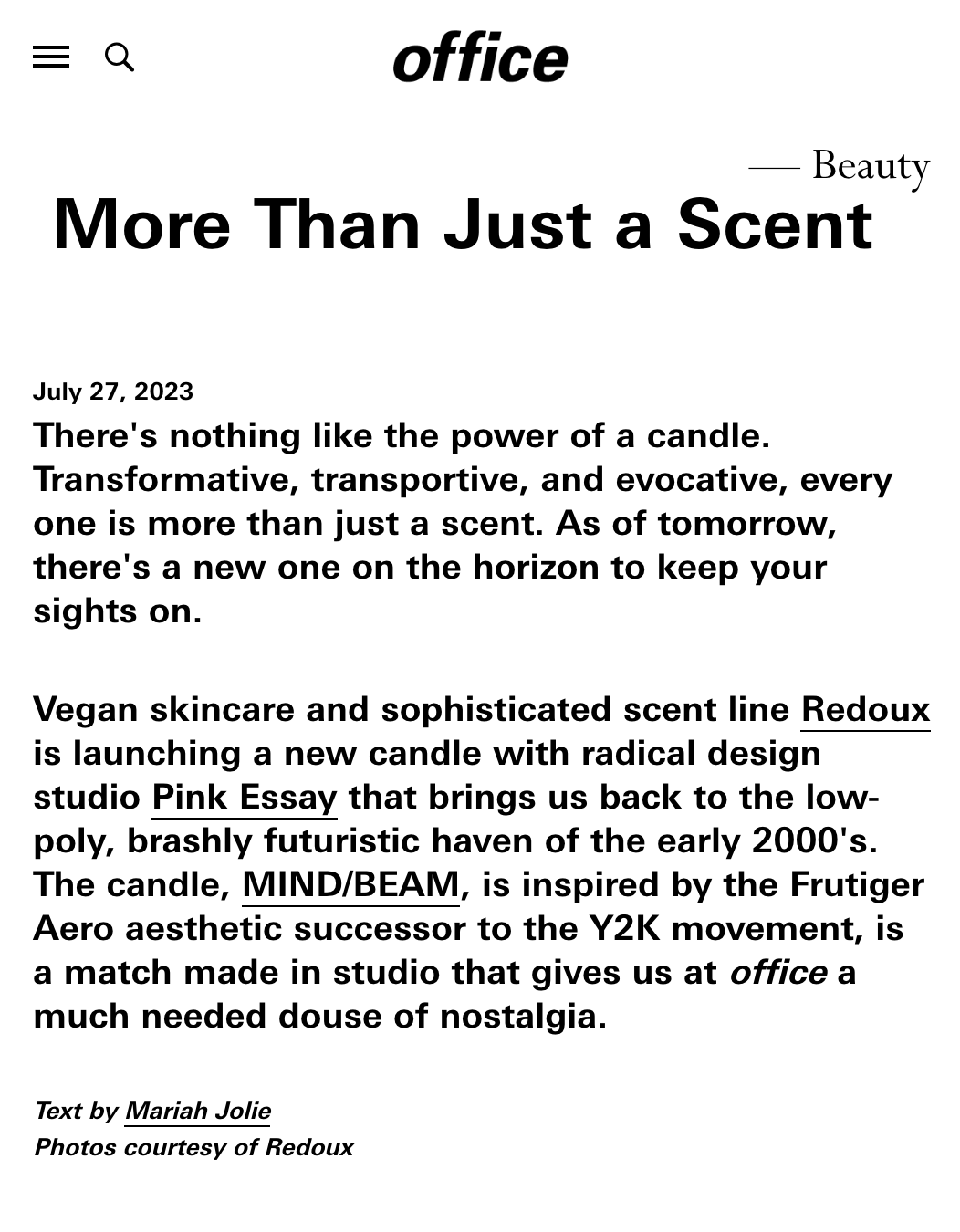 MIND/BEAM CANDLE
Pink Essay x Redoux
August 2023

What does creativity smell like? We partnered with our friends at scent and skincare brand Redoux to create the perfect studio candle with top notes of ozone, jasmine, and fig, middle notes of library, green leaves, and moss, and base notes of white tea, mandarin, sandalwood.

Smells like fresh ideas.

The MIND/BEAM candle is a limited edition product that is currently sold out, though it may be available for future orders ;)
Big thank you to office magazine for writing about the project —
read the feature here.
---
WEAR YOUR CHAIR 2.0 SHIRT


7.25.23
Alessandro Pagura
Alison Postma
Anh Dao Ha
Camila Jordan
Guilad Katz
Gustavo Barroso
Izzy Yang
Parafernalia
Reese Rousseau
Reggy St-Surin
Voidfill Studio
Yaejin Park
AVAILABLE TO BUY HERE︎︎︎
Wear Your Chair
is a Pink Essay project at the intersection of furniture and streetwear. For our first WYC tshirt drop, we invited our community of "designheads" to send us their chair designs and received submissions from around the world, resulting in a piece of apparel that celebrates the diversity of our design community.
Our second edition celebrates our growing designhead community with 12 chairs from designers around the world — an homage to the transformational state of design today. Together, we're designing the future and re-designing design culture.
READ MORE ABOUT THE FEATURED DESIGNERS︎︎︎
---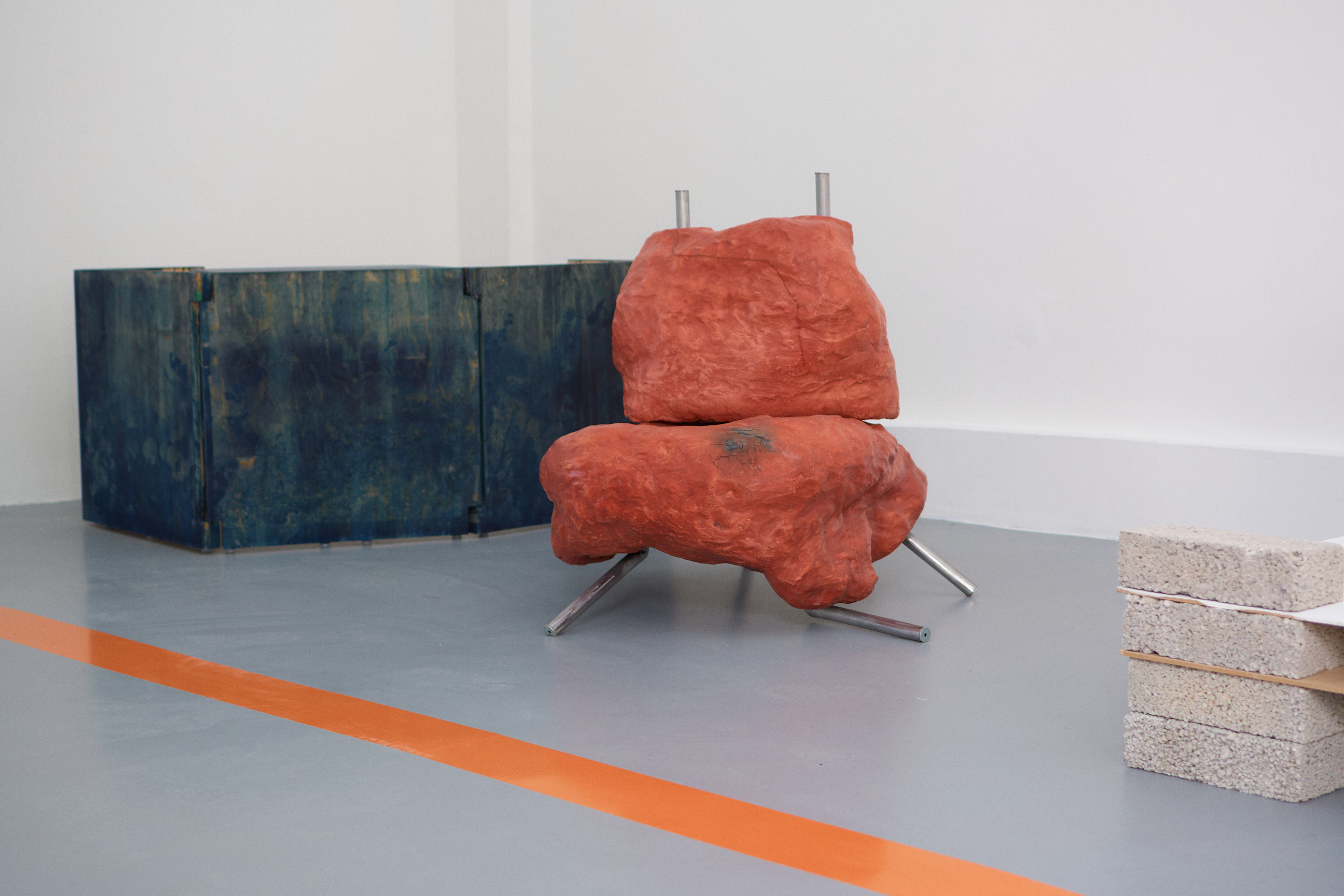 "Educación Física III", curada por David Eardley y presentada por Pink Essay en FÁBRICA en Ciudad de México, es la tercera entrega de la serie de exposiciones de diseño experimental, Educación Física, que celebra la educación en diseño a través de diversas eventos, activaciones y contenido digital al tiempo que promueve espacios seguros para la exploración del diseño.

Esta edición enfatizó la diversidad del paisaje creativo de la Ciudad de México, presentando muebles de diseñadores, artistas y creadores interdisciplinarios. Sobre la base de nuestras exposiciones anteriores en Nueva York, los participantes tuvieron libertad creativa para interpretar su propia idea de "muebles", lo que resultó en una rica instantánea de la escena del diseño de la ciudad con piezas innovadoras que reflejan el talento y las perspectivas locales.


---


"Educación Física III," curated by David Eardley and presented by Pink Essay at FÁBRICA in Mexico City, is the third installment in the experimental design exhibition series, Physical Education, which celebrates design education through various events, activations, and digital content while promoting safe spaces for design exploration.

This edition emphasized the diversity of Mexico City's creative landscape, featuring furniture by interdisciplinary designers, artists, and makers. Building on our previous exhibitions in NYC, participants were given creative freedom to interpret their own idea of "furniture", resulting in a rich snapshot of the city's design scene with innovative pieces reflecting local talent and perspectives.