"WEAR YOUR CHAIR"
NOVEMBER 5TH—20TH
NOMIA
BROOKLYN, NY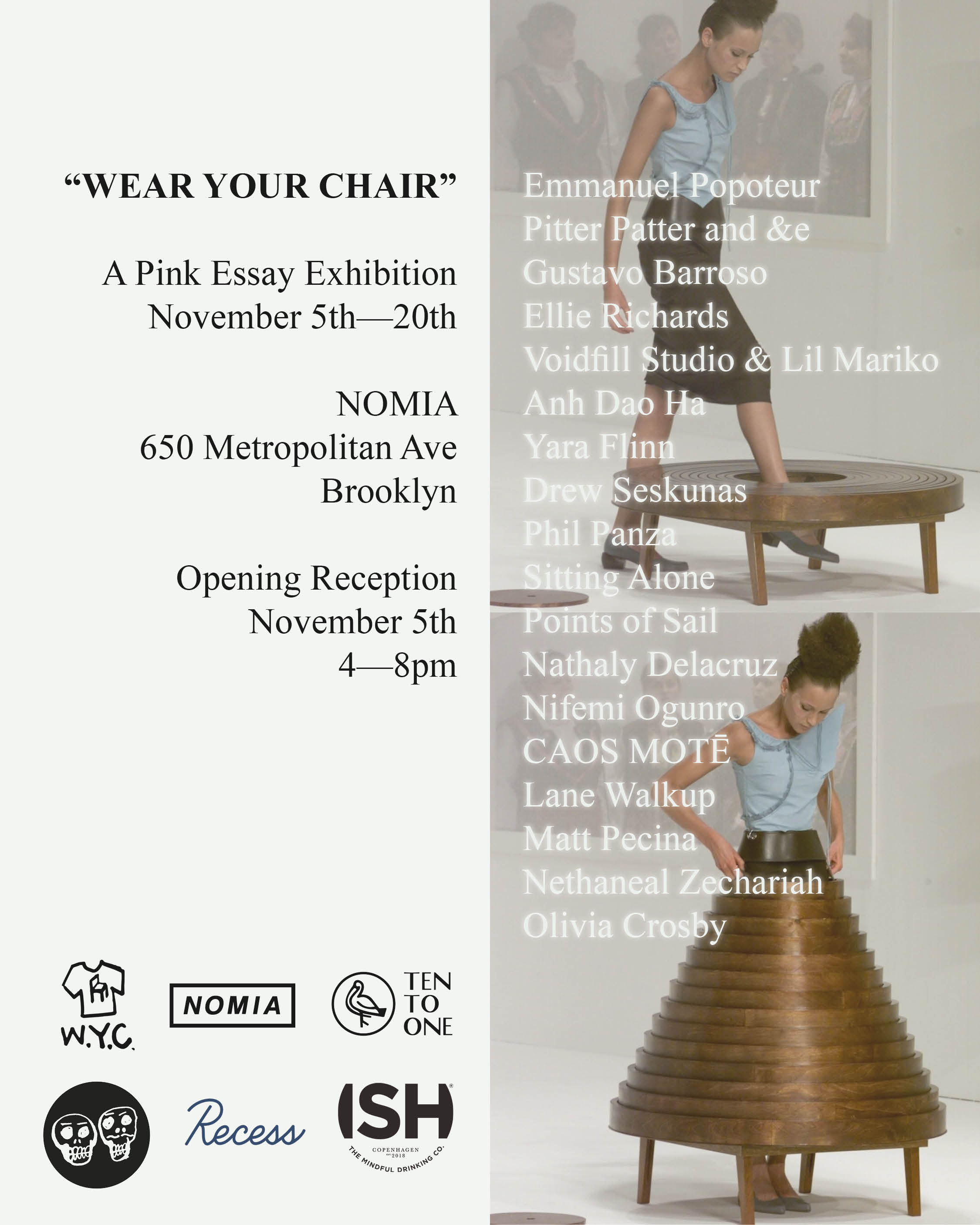 "WEAR YOUR CHAIR" is an interdisciplinary exhibition exploring the intersection of furniture and fashion. The exhibition is curated by David Eardley and Matt Pecina of Pink Essay, a creative studio and platform "re-designing design culture," in partnership with Yara Flinn of NOMIA.

Featuring
Emmanuel Popoteur
Pitter Patter and &e
Voidfill Studio and Lil Mariko
Gustavo Barroso
Ellie Richards
Anh Dao Ha
Yara Flinn
Drew Seskunas
Phil Panza
Sitting Alone
Points of Sail
Nathaly Delacruz
Nifemi Ogunro
CAOS MOTĒ
Lane Walkup
Matt Pecina
Nethaneal Zechariah
Olivia Crosby (Opening Reception Pop-Up)

EXHIBITION CATALOG + PRICING

QUESTIONS TO CONSIDER AS YOU EXPLORE

Where does furniture end and clothing begin?
What gaps are left unfilled by the design world's status quo?
What lessons can furniture designers learn from clothing makers, and vice versa?
How might we evolve by dissolving the lines between fashion and furniture?

What does it mean to build a new design culture?
---
SO WHAT'S "WEAR YOUR CHAIR" ANYWAYS?

A while back, our very own Matt Pecina started a passion project called "Wear Your Chair." The project functioned as an Instagram archive for streetwear and other apparel pieces that featured graphics of furniture and design objects, furniture repurposed as clothing, and everything in between.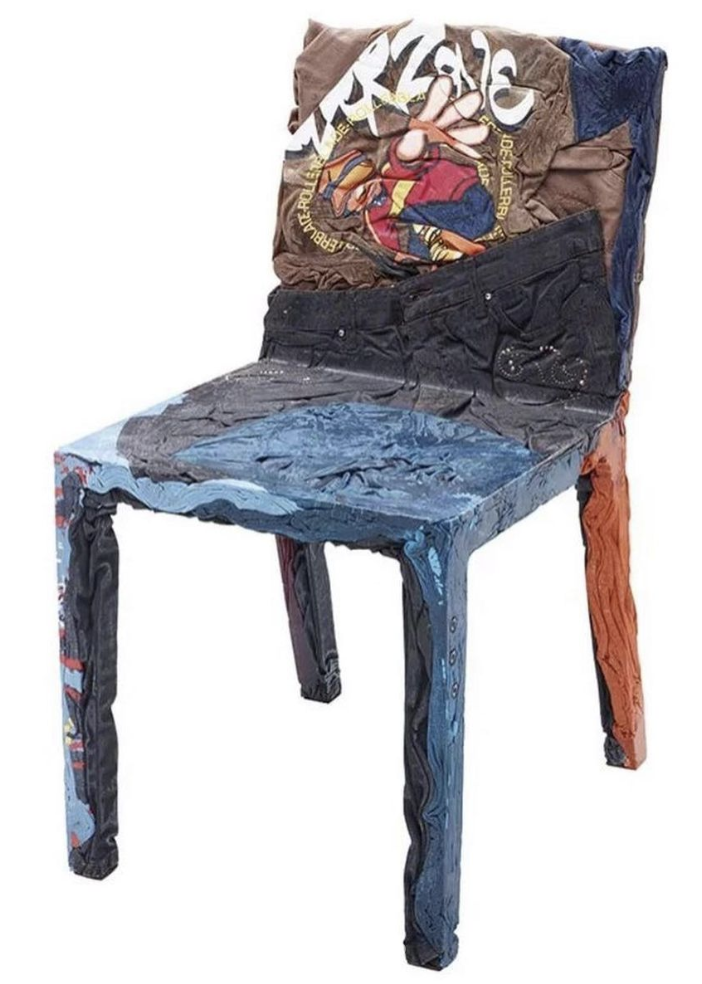 As the project grew and was absorbed into our wider work at Pink Essay, we began to more expansively explore this intersection between furniture and fashion.

With projects like our guest editorial for cultural marketplace StockX entitled "What's Design Got to Do With It?", we've drawn connections between the worlds of furniture and clothing, asking, "Are they really so different after all?" Thinking more largely about these disciplines as "design for the body" allow us to more fluidly explore the ever-changing relationship between material, space, and the human body.

For this exhibition, each exhibitor was invited to intrepret the concept "wear your chair" through their own medium and process, resulting in a diverse array of work that redefines what design can be. It really all comes down to our Pink Essay motto of "re-designing design culture."

Equally important to this project are the active celebration of and credit to the legacy of streetwear culture that has empowered makers to expand beyond the confines of the old-school fashion world. We see design culture set for a similar path: a future in which small makers free themselves from the expectations and exclusionary thinking of the old school, choosing to value identity, activism, community, and connection over everything else.





The exhibition also launches our new "WEAR YOUR CHAIR 001" tshirt. which features 25 chairs by designers from across our international community.

With the "WEAR YOUR CHAIR" exhibition, we seek to set a new norm: that we have nothing to lose and but everything to gain when we stop telling creators how to define their work and start celebrating the mind-expanding impact of interdisciplinarity. Design truly is for everyone.

Let's build this new culture together.

<3
David Eardley
Creative Director, Pink Essay


---

ABOUT NOMIA

NOMIA is a clothing brand designed by Yara Flinn since 2007, inspired by the intersection of architecture, art and street fashion.

The NOMIA flagship boutique opened in May 2022, showcasing the clothing brand alongside a curated selection of other brands and vintage + contemporary homeware and furniture, emphasizing Yara Flinn's connection to the worlds of industrial and fashion design and their intersectionality. You can explore more of NOMIA at @nomianyc and nomia-nyc.com.


---

ABOUT THE PEOPLE IN THE SHOW

Olivia Crosby
I am a visual experience designer based in Brooklyn NY with a background in sculpture and graphic design. As I have grown as a designer/maker, playing 'show and tell' is still my favorite exercise to connect people. When designing exhibitions, systems, and objects I am curious about how our physical world holds our stories, memories, and emotions. My work is focused on creating caring spaces for meaningful conversation.

Emmanuel Popoteur
A Dominican/American artist with works ranging fluidly through fashion, art, design, and music. Focusing on connecting ideas and storytelling through forward thinking designs while allowing the human fingerprint to organically show.

Pitter Patter with &e
My work started in March of 2022 by leaving 25 of my Boot-legs sculptures on different street corners around New York City for anyone to take. This project was all about accessibility, and giving people in New York a unique experience.

Voidfill Studio and Lil Mariko
Sebastian Bidegain (@voidfillstudio) is an artist and designer who focuses on functional sculpture and objects. Hyper-pop Screamo queen Lil Mariko (Katherine Zhang) known best for "Where's my Juul" and collaborations with Rico Nasty, Dorian Electra, and Zheani is also an illustrator, performance artist, and rhinestone addict. "The Barbie, the Bitch, and the Wardrobe" embraces the absurdity of rococo style furniture and condenses it into a wearable make up bag. This wearable wardrobe is for the "shiny bitch whose got lots of shiny shit" [Lil Mariko]. The bag features a marbled-acrylic interior with a battery power LED and mirrors for vanity purposes.

Gustavo Barroso
Barroso's work juxtaposes vibrant colors, whimsical forms, and pop culture iconography with familiar objects like chairs, tables, shoes, and even bricks. He acknowledges the mundane and subverts it to produce exemplars of absurdity through materialism and reference. Not only does he re-make the common form to draw in his viewers, he also repurposes and reiterates found objects.

Ellie Richards
As a furniture designer and sculptor, Ellie Richards is interested in the role the furniture and domestic objects play in creating opportunities for a deeper connection between people and their sense of place. Ellie looks to the tradition of both woodworking and the readymade to create eclectic assemblage, installation, and objects exploring intersections of labor, leisure, community, and culture.

Anh Dao Ha
Anh Dao Ha is a NYC based multi-disciplinary designer emphasizing in hyper-personal objects, wearables, and furniture. At her core, she is a storyteller looking to evoke sentimentality through her designs. Deity Salon is her independent design project bridging the relationship between clothing and objects.

Drew Seskunas
Drew Seskunas is an architect exploring how kinetic movement in design affects our experience and understanding of reality.

Phil Panza
With starting off my career in fashion, I love self expression and how clothes allows us to do this. I now try to do the same thing but for the home and interior spaces because spaces should show just as much expression and can tell a story just as our clothes and accessories do.

Sitting Alone
Joey Swerdlin (he/him) is in pursuit of many forms of architectural happiness. Currently Joey is creating a series of chairs, wearable models of chairs, and chair sculptures to help recall the importance of sitting alone to build a healthy relationship with one's self to better the whole.

Points of Sail
Points of Sail is a design agency that takes an outsider approach to solve problems and create new questions. Formed by Larry Tchogninou (Benin) and James Langford (Chicago), Points of Sail uses the world of nautical design as its muse because both of its founders aim to view design problems with fresh eyes.

Nathaly Delacruz
Nathaly Delacruz is a Brooklyn-based artist from the Bronx. Her work re-contextualizes everyday objects into wearable art pieces. A trained actress and apparel designer, she is inspired by photo, furniture, and film. MABDEZ MEDIA, Nathaly's brand, explores wearable storytelling and narrative garments through the combined lenses of her multi-media influences.

Nifemi Ogunro
I believe that furniture designs are just objects with surfaces that the body interacts with. This mindset has allowed me to challenge how a chair, side table or even a shelf looks and how it is engaged with. I want the pieces I create to serve a function but to also exist on their own as works of art. Context is everything.

CAOS MOTĒ
Caos Motē is an ongoing project by the Bay Area born, Brooklyn based designer, Sam Molloy. The name functions as an acronym for ongoing self exploration meaning Constantly Accepting One Self More Often Than Ever. The projects merge elements of brutalism, upcycling, infrastructure, and nature. Ranging from screen printed textiles to interior design, Molloy is helping distort the limitations and boxes designers are put into.

Lane Walkup
Lane Walkup is a sculptural artist based in Brooklyn, NY. Her body of work ranges from large scale installations to small wearable forms. Lane recreates the realities of everyday objects by welding and bending steel into illustrative shapes; stretching and forming material over metal skeletons.

Matt Pecina (Studio Guapo)
STUDIO GUAPO is an interdisciplinary creative studio blurring the lines between mixed-media art, streetwear, furniture and interiors through collaborative projects, designed objects and one-of-a-kind art works.

Nethaneal Zechariah
Nethaneal Zechariah is an extension of lifestyle/Cultural Narratives translated through design, mixed media, & merchandise. Nethaneal Zechariah is a lifestyle/Streetwear brand that highlights the perspective of a Chicano kid from the border of Mexico. Mid Century Design, Chicano Motifs, Religious Staples, & Western Themes, all coincide the continuous dialogue Nethaneal Zechariah portrays through his works.