DESIGNHEADS: &e
What's design got to do with it?
6.27.22
DESIGNHEADS
is an interview series profiling the next generation of designers, tastemakers, and creatives *shaking up* the design world.
Name:
&e
Age:
31
Location:
The 1 Line, NYC
Instagram:
@0831am
Website:
no website, not right now it's too hot at the moment.
Are you a designer? Why or why not?
I consider myself an artist more than a designer. Designers are problem solvers. And by design, I try and avoid problems as much as possible.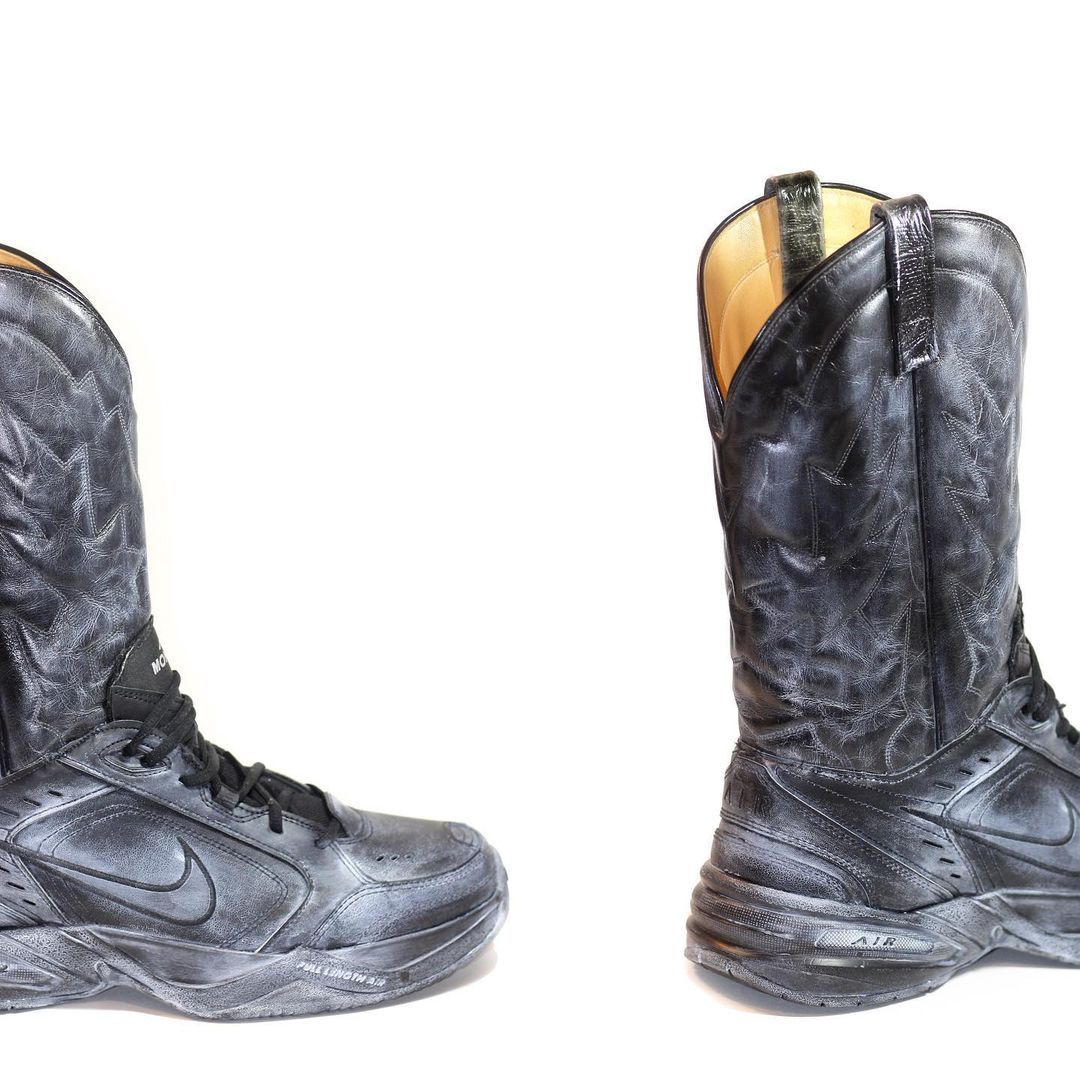 One word to describe your take on design:
1 Line. My "design approach" is finding a connection between different genres, and finding a common ground between them, stitched by 1 line. The 1 line connects the shaft of the boot and air forces, same with the converse air forces. I also live off the 1 line, where I get most my inspiration from. So yeah.
The last thing you made:
a pair of what I call
the Dusty Rhodes
(Nike Air Monarch Cowboy Boots)
The next thing you want to make:
I really want to get back into illustrating & tie it together with the shoes I make.
A designed object you adore:
Toe cap detail on the
original 1995 air Jordan Steel 10's
. I hope they never rerelease. Jordan brand if you're reading this, no body likes the toe cap, DO NOT RERETRO.
A designed object you can't stand the sight of:
Streetwear with profanity on tshirts—like we get it, you're a rebel. And of course, them damn fake Air Jordan 1's. So happy it's not a thing anymore.
A moment of pure creative joy:
When I made the dress shoe air force one. It was like a freestyle, where every line just made sense. Its really hard not to talk in puns. I'm sorry.
When we say "designing the future," what comes to mind?
Pushing the narrative forward. Breaking the norm, changing the game until it becomes the norm, and when you change it, you can't stop. I sometimes think like, "Damn do really want Nike to collab with me on these boots?" My whole thing is to stand out in a room full of the latest releases, so what will I wear when the whole room now looks like a rodeo? On to the next design. Constant moves forward.
If you could show your work to anyone in the world, who would it be?
Rick Rubin
, only because I feel like I take a music producing approach to sneaker design. What music does the character wearing this one shoe listen to? And how does it change when this other element is added to it? The true meaning of the "Hip Hop Designer" title. Damn—I guess I am a designer after all.
Your aesthetic embodied as a...
sound?
That one synthesizer sound in
Diamonds from Sierra Leone
by Ye that goes "doo da doo doo deww." Look for it, it's totally me.
color?
The feeling of light blue and red color combination
texture?
A fresh eggshell painted room
Your *grail*: if you could own one iconic design work, what would it be?
The LV jacket Dapper Dan made Alpo
What's next for you?
A trip to Oregon.︎
Interested in being featured?

**Send your responses to the following prompts AND a hi-res full body photo to hello@pinkessay.space**