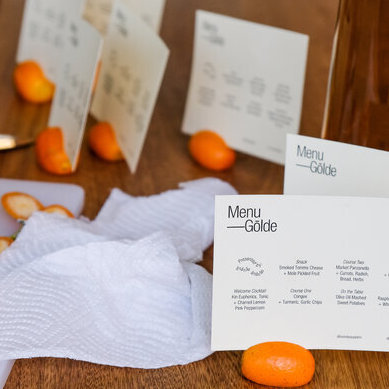 Launched in 2018, Caldera Magazine is a bi-annual print and online publication dedicated to championing the voices of creatives from POC and Queer communities. Our hope is to build a space— both online and out in the "real world"— where people can see themselves, and feel heard in a genuine, authentic way.
Food is a universal language that accomplishes what words simply cannot.
Elena and Verónica are designers who believe in the construction of visual needs to satisfy a purpose. This belief, coupled with their joint love of food and all that a shared meal represents, creates the foundation for their new experiential studio.
Anânâs is the scientific word for Pineapple - it is the word used in almost all languages, with the exception of English. A creative dream team, Elena and Verónica, adopted the term due to its somewhat universal use, and because the fruit is relatively complex in its chemical structure. Which is the underlying story of what the pair is trying to do - using food as a unifying factor, and presenting it in a dynamic, appealing way.
The two met through a mutual friend after Elena relocated to Mexico City, and immediately bonded over their shared passion for all things culinary. Elena, Los Angeles born, has a background in graphic design and art direction. Always curious about other creative fields, such as cooking and design, she found her way into the fashion industry soon after college. Coming from an Armenian background, growing up she was raised by women who were homemakers that implemented a culture around the kitchen. She expresses her life right now as being in a "transitional phase", taking the knowledge she has from her past creative field and utilizing it with this new project. Growing up, she recalls having a set dinner time with her family every night. There, they created a safe space to delve into discussions and overcome obstacles together. Since then, sitting around the dinner table has made her feel safe to open up and be vulnerable.
As for Verónica, she finds inspiration in the way food relates to our cultural and everyday journeys. An industrial designer who performs her creative practice through objects and spaces using food as a medium for experienced event design. From food installation to objects, her pieces tell stories about the people who craft them and the preservation of traditional and handmade techniques, while working in regions all around Mexico. Her creative output is the result of the way she has experienced food since she was just a girl, with a North Mexican background. Her family taught her about new encounters with food as a way to connect people back together. Taking this mindset into her cooking practice, she expresses unique food to human interactions, researching from its cultural diversity to the preservation of cooking techniques. She's always in the constant search for expressive practices towards the respect of our land and zero food waste processes during its pathway to our table.
Both creatives aim to curate an experimental space that brings together interesting strangers, delicious food, and a dreamlike atmosphere by way of their new project,
Anânâs Anânâs
. A studio focused on the ritual of eating and outstanding ways to feed by incorporating the comfort and community familiar with a family meal at home, while still prioritizing new experiences, connections, and ways to eat. Not be confused with a supper club though - the duo's shared interest in the amusement people find with food fueled a different approach, leading them to utilize art and installation-based work as the basis for their activations."Feasting has always been about the eyes", Verónica says. Art, for many, is a natural way to cultivate engaging dialog with a viewer or audience. For Elena and Verónica this proved to be a vital component for their practice. A shared interest in romanticizing the act of eating and to allow their audience to interact with food in a way that is multisensory - "for us, using food as a medium to get people together and to start a new conversation is one of the most human practices we could create."
Creatives to their core, the duo takes their own approach to the development of Ânânâs Ânânâs installations they explained that "[we] have a wide variety of inspirational books and journals with ideas we jot down once it pops in our minds on any random day. The processes vary depending on if we are collaborating with a studio or doing our own thing. If we are collaborating we try to design an idea that fits with the aesthetic values of the studio we are working with. If we are doing our own thing, we just think of the most outstanding ways we can present food and test it out in our homes to ensure our idea can be executed." With so much going into each event or project, Elena and Veronica have found themselves favoring some parts of the process. For Elena, the process of executing the installation starting with the cooking and through the assembling. She's always loved cooking and working with her hands. It's also a very funny and interesting experience having to create environments like an octopus garden or hanging fruits and cheese from trees (part of an installation in collaboration with Kin Euphorics). Veronica however is attracted to the designing of a new concept for the next food experience we aim to create. She loves to rethink the way people are experiencing food throughout flavors, colors, textures, and objects, how these factors play harmony together to create a total edible installation.
Since launching the studio they've been able to bring their vision to life for brands large and small, all while upholding their original messaging. When they aren't hosting lavishly approachable events, they're planning for what's next "[we're] in the beginning stages of working with a few creative studios and galleries in Mexico and the US. We're also teaming up with some of our favorite photographers in Mexico City as we will be starting a cookbook project in which we choose a few recipes from a cookbook once a month and present the dishes as art installations." As experiential activations become more and more popular there is an added layer of importance for small creative groups or studios to hold true to their intentions, "as Ânânâs Ânânâs grows a larger audience and [we will] keep challenging the senses through food, as well as rethinking existing familiar recipes that we grew up with to present them in a way that hasn't been done before. We have a very present responsibility for designing installations that reevaluate downfalls on our food production system, where we seek to come up with meaningful actions against food waste and sustainability in a creative and innovative representation that communicates to the masses." Underscoring the firm belief that food is the universal language that accomplishes what words simply cannot.
See more of their work, and learn more about their process in Caldera Magazine's upcoming issue,
pre-order here
!
Article written by Zoë Rayn Evans From Caldera Magazine in collaboration with Pink Essay.