︎ Home Union
2.21.20
Brooklyn-based vintage furniture store
Home Union
, run by Meghan Lavery King and Daniel King, curates an enviable collection of design classics and local designers.
Explore more of Home Union︎︎︎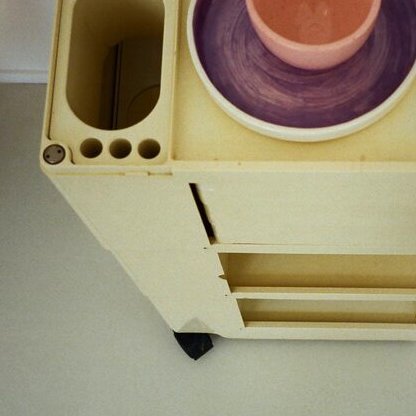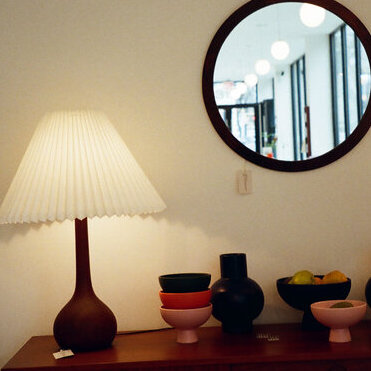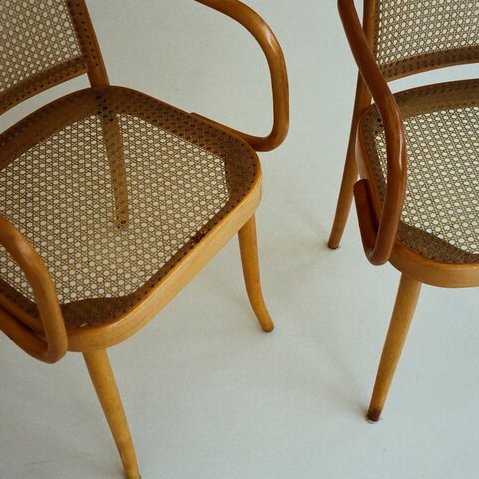 I met with Home Union owners Meghan Lavery-King and Daniel King at their new store location in East Williamsburg, curious to hear about how they were settling into the new space. Their collection of classic and daring vintage design furniture and objects, now accompanied by some original pieces, becomes more approachable and playful within the purposeful layout, and expanded square footage allows the co-owners more room to experiment with floor plans and displays. A table in the middle of room, surrounded by a set of four orange Kay LeRoy Ruggles chairs, offers up a collection of ceramics, while a few Danish dressers rest naturally against the wall. Meghan and Daniel are at ease in their store, and I feel like I've been welcomed into an extension of their home.

Do you feel settled in?
Daniel: [laughs] No, no.
Meghan: We'll give you a tour after. Our workshop is in the basement and...
Daniel: It's not unpacked.
Meghan: On the outside, we're settled in. But, the little things we still need to set up⁠—behind the counter, the cleaning room, back stock, all that.
Daniel: We swept all the dirt under the rug.
The illusion is working!
Meghan: We tried to do a really fast move so that the store wouldn't be closed too long.
We have so many months for buildup and then all these things happen, you know that you can't control. We had our floor done three times - it kept not working.
Daniel: A lot of things couldn't be done. The counter couldn't be built until the floor was completely done and set. The counter wasn't built until two days before we opened.
Meghan: We're still wiping grout off now!
Daniel: I built it and we tiled it with like 24 hours to go. It's still not 100%.
Still, it's amazing that you just built it yourselves.
How similar or different was it to moving a home?
Daniel: It's a lot different, because at home you're like, "I can do paint touch-ups later", or...
Meghan: Or slowly unpack.
Daniel: Yeah, this was like, "Everything's got to be perfect for opening."
Meghan: Right. If you were moving into a home, you can slowly pick out furniture and lighting or whatever. But here, everything had to be ready for people to come in. And functioning, like a counter where we can ring people up and all that.
But we feel settled in the neighborhood for sure. We've lived in the neighborhood for years, so it feels good to be right here too.
I'd love to hear more about the process of setting up the store. Do you feel you had a particular way of going about it or a particular attitude you had towards setting up that that was similar or different from the previous space?
Meghan: I think we learned so much from the first store. For this space, we were like, "Okay we need outlets in some places and we don't need outlets in other places. Where the photo wall is we don't want a big outlet box, so we made sure that we have a wall that's smooth and nothing is there, to take photos. And then we made sure we have an outlet up on the steps. We would have put more, but there's steel beams, and so many complications. But I think that was a huge thing.
Daniel: Having a level floor was huge.
Meghan: Yeah, our old store became like a roller coaster. It kept moving.
Daniel: If you even walked in our old store, you could hear everything shaking.
Was it over the train?
Meghan: No, it was just fast construction. Cheap, so the sub floor was not good. That whole store would shake when there were a lot of people in there.
Daniel: Having a sturdy floor, and we wanted something that's easy to clean, which is how this stuff is marketed [gestures to the new off-white flooring]. Although, it's not really the easiest to clean as it turns out.
Meghan: We also wanted to make sure we were in a place with natural light. For our Instagram photos, it's always just natural light. And we didn't want to change the Instagram too much by moving to a space and having it look too different. We had White Ash hardwood floors before, so we wanted to keep something light with the floor. If we had dark cement, all of a sudden our Instagram will look really different. So I think that was a big part of deciding what to do.
Daniel: Yeah, we were definitely holding out for a good corner spot.
Meghan: And this space was here forever. We walked by like every day, before we even thought about moving.
You can see all of it at once, but also there's so much space.
Meghan: Yeah, yeah. People have been saying it kind of makes you walk it and see everything more. Before, the old store felt cozier. Now, it's a little bit more museum-like, showroom-like. But hopefully it's not too stuffy and people still feel cozy and comfortable, but you can see more.
There's more opportunity for you all to set up these kinds of micro rooms, which Iet people see how the furniture fits in their home.
Meghan: For sure. That's a plan actually. We want to build some moving pieces that can be in the middle, for displaying things, or some kind of wall where we can hang a mirror and the little vignette.
What are your other big dreams for the space?
Meghan: Having the basement set up like the workshop, really perfectly functioning. We do want to constantly be building new things and keep the space looking different.
Daniel: We have been doing a few collaborations with people. We started with collaborations with rugs and now we're doing our own rugs. Meghan designed these [gestures to the checkered rug between us]. I would like to build our brand a little bit more, because yes, vintage is where our heart and soul is. But it's hard to keep this place filled with vintage. I feel like we're pretty spread thin for sourcing/fixing, so I'd like to find ways of building in little things that we can [create] ourselves, to sell.
Meghan: Yeah, we have a bigger space downstairs and we'll have room to do more. Maybe rent out possibly for workshops, different ideas like that.
A new direction, I love it.
Unrelated, but what's the Holy Grail vintage object that you always have wanted but haven't yet found?
Daniel: [Turns to Meghan] I know what your answer is going to be.
Meghan: What?
Daniel: It's the De Sede "Non Stop" sofa in white leather or cream leather.
Meghan: White or cream leather. We'll find them but then the price is crazy. We do have a friend that's found two now, in the area. I want one so bad.
Daniel: It's eluding us. One thing though, is that it would be really hard to sell, because we really want one for ourselves.
Meghan: There's some I like - Italian leather. Cassina, Scarpa and that stuff, but it's so hard to get in good condition and affordable price. Yes, people sell them for $30,000 or $40,000, but I'm not going to be able to do that.
We've been looking for a sofa for ourselves for a while, and there's been a few that we wish we'd kept that we've sold.
Daniel: We had an amazing Massimo Vignelli, a Poltronova sofa.
Meghan: Three seater, caramel leather. So space age, but so modern.
[Turns to Daniel] What is your thing, though? I feel like yours wouldn't be a sofa.
Daniel: Well, we have the Hans Wegner chairs.
Meghan: The Hans Wegner chairs.
Daniel: And I've always wanted those. I like the Wegner stuff a lot.
I still like a lot of the Danish stuff. People are kind of shying away from it, but I love the classic design. But yes, sofas, for sure. Like Mario Bellini. Those are amazing too.•