Fair Weather: A PE Dispatch from MDF Mexico Design Fair

Blog — 8.25.22 — By David Eardley




As the summer winds down and I find a bit more time in my schedule, I wanted to write and reflect on my experience at MDF Mexico Design Fair, a two-day event in Puerto Escondido in the Mexican state of Oaxaca to which I was invited earlier in this year as a press representative.

My time at MDF was intriguing, complex, and definitely different from any other "fair"-type event I had attended in the past, and is worth sharing. In line with our ethos of "DESIGN FOR ALL," I approach this event (and any design event) with an eye for ingenuity, inclusivity, and attitude of "rethinking." I don't intend this to be overly critical, but rather a kind of encouragement through which we might better our shared design community.

Full transparency: I'm a bit of a skeptic when it comes to art and design fairs, so I was curious when the fair's organizers advised me that they were rethinking the traditional stop-and-chat-at-the-booth structure most fairs adhere to. Let's get into it:

I'll start by sharing MDF's statement describing the event itself:

Puerto Escondido was once again the meeting point for collectors, designers, curators and gallery owners to celebrate contemporary design during the second edition of MDF Mexico Design Fair, which took place May 20-22 in two venues: Casa Naila and Casa Tiny. Objects that tell us a story about the times we live in today, and that transcend their time and their utilitarian nature to enhance an inhabited place, made up both the main exhibition at Casa Naila and the satellite exhibition at Casa Tiny, curated by Carlos Torre Hütt.



Casa Naila - I almost fell of this bridge

I arrived in Puerto Escondido—a warm, sundrenched beach town in the state of Oaxaca (this was my second time visiting)—along with a mix of press, collectors, design tastemakers, and assorted friends of the fair, both Mexican and international.

Puerto attracts an array of tourists, from surfers to queer partygoers (who often head to Zipolite, a nearby town) to those simply looking for a beautiful beach that is easily accessible by a one-hour plane ride from Mexico City.

The fair launched with an afternoon-into-evening oceanfront event at Casa Naila, a seaside venue south of the city, where a series of open air structures held selections from the fair's catalog, including the Sattva set designed by Perla Castañón, the Cola de venado tables by César Ponce and Carlos Torre Hütt, and the Faces chairs by Edgar Orlaineta, collections produced by brand Rattan.



Installation at Casa Naila

It was cool to see artisan processes brought into contemporary design work, as well as the unique style in which the pieces were staged, which put them in front of crashing waves or in a loft where bits of sunlight trickled in. I often find it hard to gather all my attention in fairs for more than maybe 20 minutes, but I was able to do so pretty easily considering the smaller scale of the pop-up exhibition.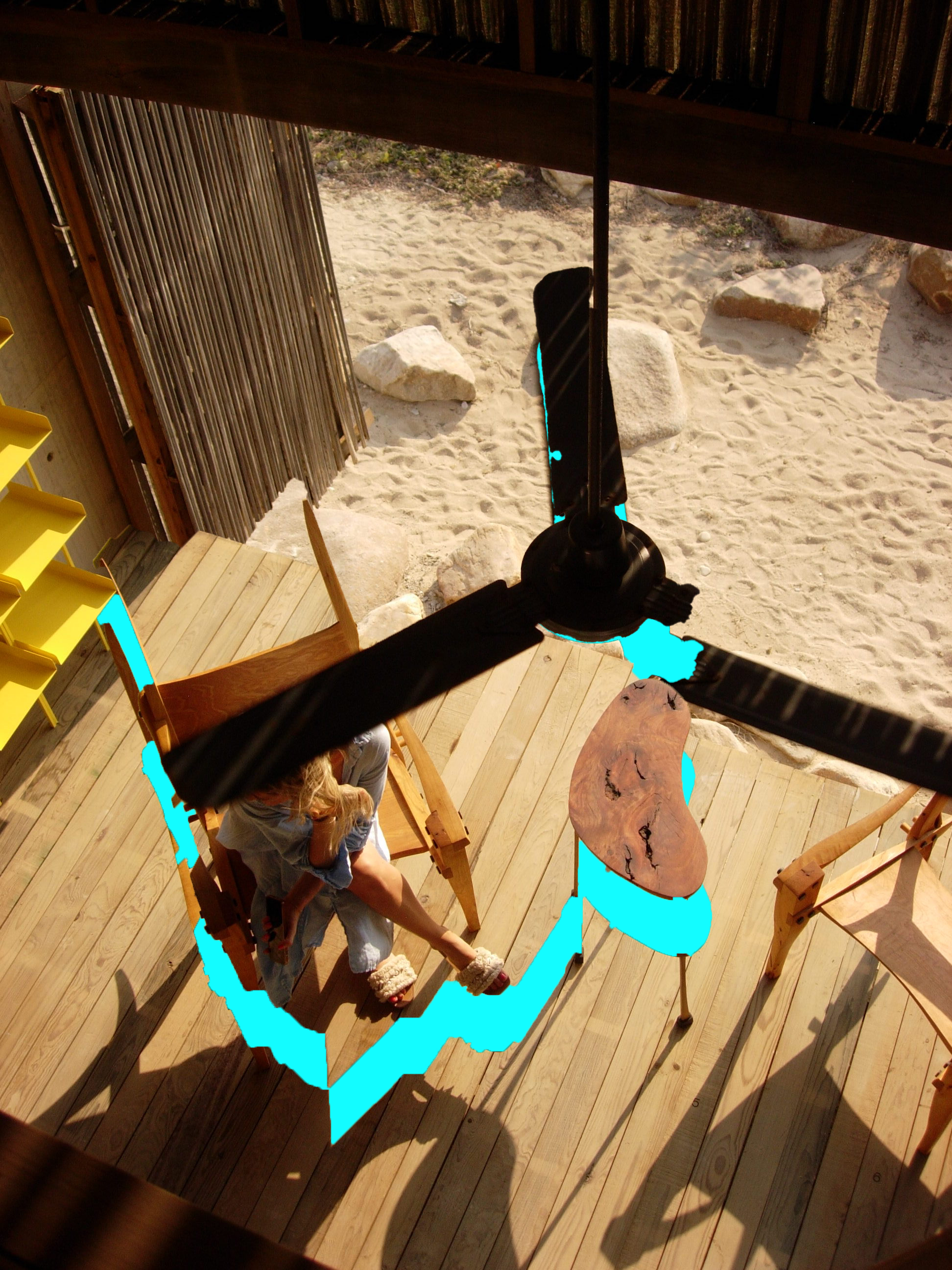 View from the loft at Casa Naila

My favorite pieces were one from Rimowa's sculpture series, as well as the Edgar Orlaineta's Still Life vase collection. The Rimowa sculpture—the brand commissioned reinterpretations of their famous case by different designers around the world—was a broom built from the Rimowa casing, gently propped up against the wall.

I took a photo and posted it to @pinkessay, which led to Noel Mercado, a PE favorite, commenting that they had designed that piece a while back and didn't even realize it was in Mexico at the moment (the almighty power of the internet).



Rimowa broom by Noel Mercado

From there, the night (thanks to the available mezcal) turned to more socializing as the sun set (GREAT sunset btw). I found myself talking to a group of energetic editors from Neo2, a design magazine based in Madrid, as well as Perla Castañón, one of the featured designers who I had interviewed previously and whose serene energy brought something really special to my time there.

A group of New Yorkers with a tangential connection to the fair were also in attendance, bringing the party energy that reminded me of being 23 years old on Delancey Street in the LES at 3am.



Editor from Neo2

The evening finished with a fireworks show as a prism-shaped structure about three floors high burst into sparks amidst the beach's darkness, and we gathered our things to head back to our hotels and airbnbs.

The following day, hangovers notwithstanding (in attempt to cure mine, I jumped in the ocean and battled for two whole minutes with the obviously dangerous waves before running back to shore), we all gathered at Casa Tiny, an actually-very-tiny space to the north of Puerto, where among a menu of drinks and snacks and satellite installation of design works, a representative from Rimowa presented MDF Designer of the Year Award to José de la O.



Edgar Orlaineta's Still Life vase collection

I found myself surrounded by representatives from Nike, Carpenters Workshop Gallery, and other fashion/design stakeholders, but the most impactful of my conversations was with Grisell Villasana, a Mexican design researcher with whom I had a quick but meaningful conversation about the relationship between Mexican and US design, and how US designers might better learn from history to advocate for their Mexican colleagues just like their predecessors did.

It got me thinking about the tendency of US designers to produce their work for a lower cost in Mexico before selling it for a high price to collectors in the US and beyond—a undoubtedly questionable choice that seems to be worthy of more discussion than it gets in US design circles.



Perla Castañon and Derzu Campos

The night finished with dinner on the beach (the fresh prawns were killer) and a bonfire, and even more mezcal. Many of the attendees continued on to a bar nearby, while I called it a night and headed back to my hotel.



Late night on the beach

From a design perspective, the fair presented a small-but-diverse array of work that raised valuable questions and directions around artisan processes, representation, and the current state of design. I was excited to see work by Palestinian designers Local Industries represented in the fair, since the decentralization of the design community away from the Bermuda Triangle of NYC-London-Milan (as well as the US-Europe dichotomy) helps to open doors for a greater diversity of perspective and, subsequently, better design.



Casa Naila

It was also fun to see design people having fun—fairs are often such stuffy, schmoozy places, and it was clear that everyone was, for the most part, enjoying themselves, getting out of their respective shells, and talking to people who may have had a very different life experience than their own. This is a core experience that is missing from so many design events: purposeful encounters, even just for a moment.



Editors from GQ and AD Mexico & Ana Noriega from CGN Gallery

Aesthetically, there was a lot of beautiful work and staging, especially Edgar Orlaineta's Still Life collection, which were pretty much glowing supernaturally in the ambient late afternoon sunlight. The work was eclectic and thoughtfully presented, and I enjoyed hearing the hosts talk excitedly about the history of each piece.

Thinking back, it would be interesting to open up the spaces a bit for next year's fair, as at times the exhibition rooms felt too dark to fully appreciate the quality of the work, or to encourage the attendees to linger and examine the pieces.

I also was left asking the same question as I do about all fairs: how might this event grow the quality of our design community? In some ways, that question was answered: fostering a level of joy around design, a more diverse audience of attendees, and a chance to celebrate Mexico and design in general outside of the US-Europe dichotomy—each of these choices brought a distinctly different tone to this particular design event.




Beyond these highlights, I would challenge MDF and design fairs in general to ask how we might use events like this to create a better quality of life beyond the limited group of attendees, and to make that directionality intentionally transparent to the fair's guests. High-end design will likely never cease to exist, but perhaps there are purposeful ways to strengthen the equity of systems that produce design objects and design events.

From conversations with Armando Quintana, one of the founders of the fair, I know this is something that has come up frequently in their work around shifting the face of design in Mexico, and I look forward to seeing how the creativity that drives the beautiful objects and joyful experiences from MDF 2022 might be applied to affect even greater change in the world beyond.

︎

David Eardley is the founder and creative director of Pink Essay. More of his work and writing can be found at davideardley.xyz and @david_eardley.

Want to translate this page? Copy the url, then visit this link.